Grace Hopper Conference 2017
---
Jessica Nwaogbe
April 16, 2018
I found out about the Grace Hopper Conference when I was a junior in the spring of 2017. I was freaking out about how I was going to get the much-needed coding experience to get a job by graduation. Though I had weak experience, I was encouraged by other female students in Computer Science to apply for the conference. Somehow, I was able to get a scholarship through Temple University and in October, I was flying to Florida for the first time in a plane with other Temple students.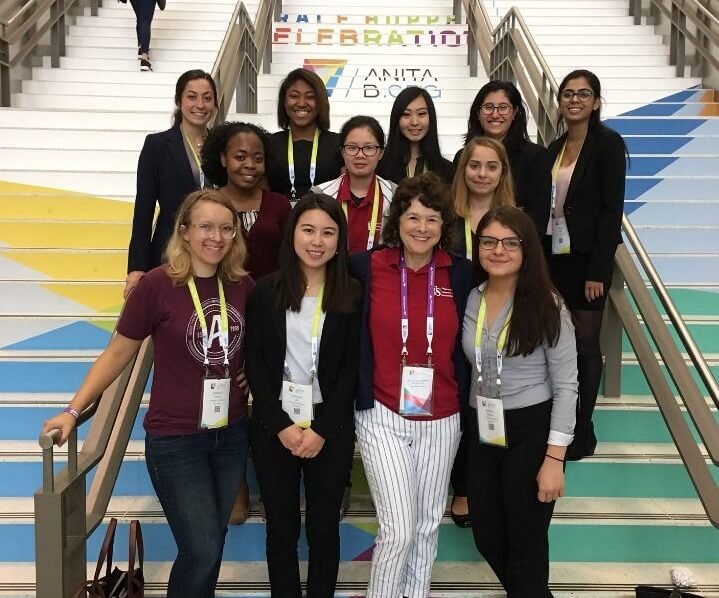 Temple Grace Hopper Scholars
Nervous was an understatement. I was anxious about flying in an airplane but I also felt completely unprepared for any job interviews (if I even got to that stage). But my nerves somewhat calmed down when we finally touched down in Orlando. I took in the warm weather and palm trees, knowing that I had days of talking, pitching, and studying data structures and coding algorithms ahead of me.
The event took place in a huge conference center connected to our hotel by a skywalk. Unfortunately, we were too late to hear Melinda Gates' open as the Keynote Speaker. I heard that there were going to be a bunch of huge companies at Grace Hopper: Google, Microsoft, Amazon, etc. I thought I was going to be intimidated my entire time in Orlando, but was pleasantly surprised by the friendly, intelligent and down to earth women I met.
Conference hallway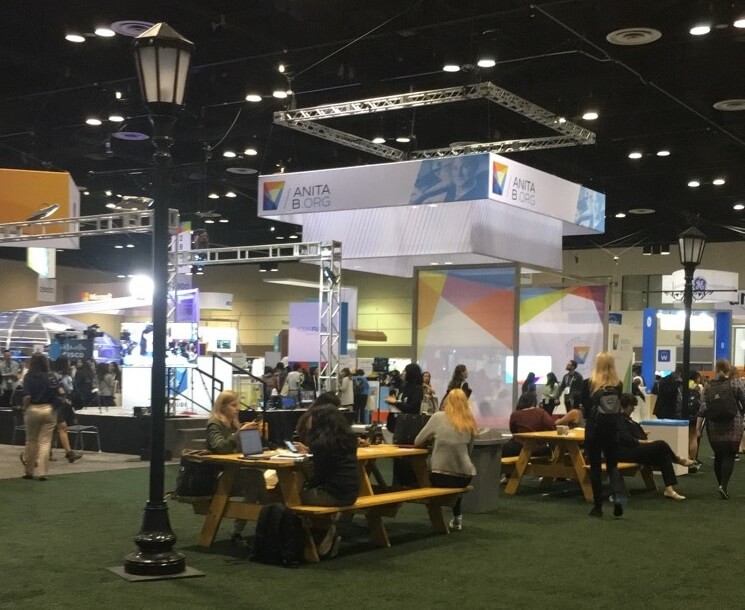 Career Fair
The career fair took place in a huge room over the three days of the conference. The bigger companies had huge displays with screens, platforms, and cooler-looking free stuff. The smaller companies usually had only a table and a backdrop. Although I went up to the companies with the coolest-looking swag, I also approached the companies I didn't know or had a genuine interest in (so I ended up missing out on companies like IBM or Microsoft). The only free time I had was usually right after the career fair. Companies held events at bars, restaurants, and other fun attractions. I ended up going to a dinner and a happy hour event hosted by the company that sponsored me: Fast Enterprise. It was inspiring listening to women not much older than me, talk about their experiences in tech. It was comforting to hear that technical skills wasn't everything when it came to getting a job, but that personality and a willingness to work with others was far more important.
At the end of the conference, I had interviews with three companies and got job offers with all of them. I ended up accepting an offer with Harris Corporation in Melbourne, Florida. I actually flew in for their interview just a week after the Grace Hopper Conference. I really enjoyed my experience, not just because of all the free swag, but I felt validated in my skills and my decision to be a software engineer. I only wish that I had found out about the conference sooner. I understand that many college's CIS departments can be very discouraging for any woman (regardless of ability) so I truly encourage any woman even considering the technology field to go.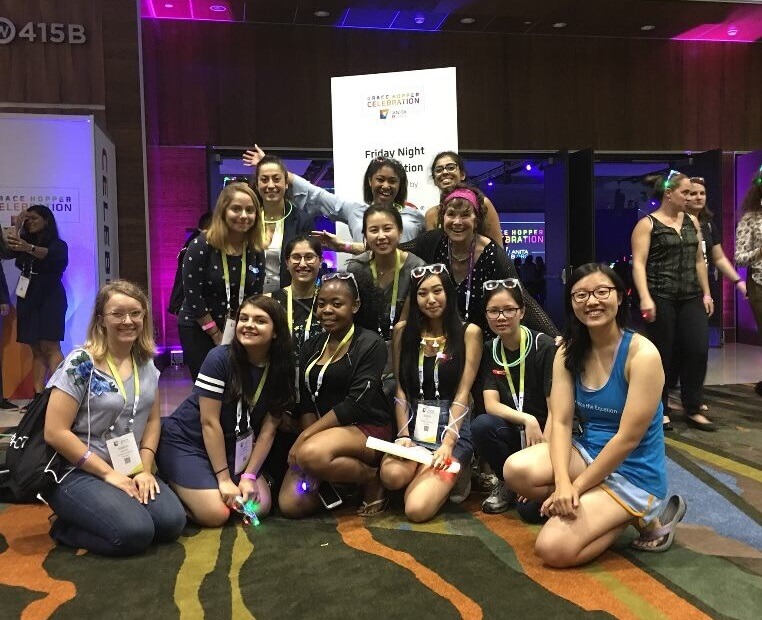 Last night of the GHC